Educator, 32
Maggie lives with her husband Henry and their 4-year-old daughter Emma in Kentland. While Henry works part-time as a home appraiser, Maggie teaches Government and Econ at South Newton High School.
Despite their incomes, money is tight. Teacher pay at the high school is not enough to support all three, and Henry works when the housing market is hot, which is not always the case. He often has to travel long distances for jobs, which is getting more difficult when they don't have a sitter for Emma.
Start Maggie's story at The Beginning.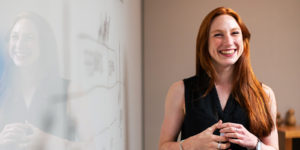 Maggie lives with her husband Henry and their 4-year-old daughter Emma in Kentland. While Henry works part-time as a home appraiser, Maggie teaches Government and
Read More »